Our 1-day Kyoto, Japan itinerary is an efficient step-by-step plan of attack for visiting the best of the city's temples and shrines, including several UNESCO World Heritage Sites. It's a jam-packed day that crisscrosses Kyoto, and will take you to some of the city's top temples and, by extension, the best of Japan.
Before we get started, we will caution you against spending only a single day in Kyoto. We'll be blunt here, even if that means telling you what you probably don't want to hear: Kyoto requires multiple days, and a rushed experience does the city serious injustice. If you can, cut time from the Osaka, Tokyo, or other legs of your trip in Japan and reallocate that to Kyoto. It is far better to spend less time in any of those cities than it is in Kyoto. If you do, you'll find that our 2-Day Kyoto Highlights Itinerary offers a significantly better experience.
This 1-day plan is the Kyoto itinerary version of "shut up and play the hits!" It focuses on temples and shrines that are the city's most popular and widely considered to be the best. If you're visiting Kyoto and have 'fear of missing out' on the best stuff, this is the plan for you. With that said, this is pretty far from our perfect day in Kyoto…
We love Kyoto, and no day spent there is a bad day. We've field tested this itinerary, and it was quite fun. We've also done each of the individual stops (most several times) and like them all. However, the amount of commuting–and on a bus, no less–in this itinerary and the lack of quieter, hidden gem temples and shrines makes it less ideal.
We prefer to savor our Kyoto experience, and strike a balance between the popular temples and under-the-radar ones. The pace of this itinerary makes it difficult to relish and reflect upon the experience. About the only breaks in this breakneck itinerary come on long bus rides–and those too can be stressful given the elbow-to-elbow crowds on buses.
It might seem like an odd 'sell' to try talking you out of using an itinerary in the preface to that very itinerary, but we are realists, and acutely aware that many people are actively seeking out this type of itinerary. If you don't find it here, you'll find it somewhere else. At least this way, we get the chance to talk you out of it before you do it.
Of course, that advice is useless if we don't have a viable alternative. For now, we'd recommend doing our 1-Day Eastern Kyoto Itinerary, which focuses on Higashiyama, instead of this one. You'll skip some very prominent temples, but have a better overall experience. In the very near future, we'll share an itinerary for our perfect day in Kyoto.
With that said, let's dive into our step-by-step, one-day stay in Kyoto, Japan…
Golden Pavilion (Optional) – It might seem odd to mark one of the most popular points of interest–not just in Kyoto, but in all of Japan–as optional, but it's a serious hassle to get to the Golden Pavilion. It's not serviced by rail or subway, meaning you'll have to rely upon city buses, which are notoriously over-crowded for this route, or private taxis. There's really no way around it…aside from skipping the Golden Pavilion (and the two stops after it) entirely.
Although we've come around on it a bit, we still think Golden Pavilion is overrated. It's still a top 10 Kyoto experience for us–just not #1 or #2 like it is for many tourists. You probably should not skip Golden Pavilion, but it's hard for us to give this stop a ringing endorsement given the time commitment and crowds you'll encounter, both in transit and upon arrival. If you do go to Golden Pavilion, it's imperative to arrive shortly before it officially opens for the day. Click here to read and see more in our full post about the Golden Pavilion. 
Ryoanji Temple (Optional) – If you do the Golden Pavilion, you might as well make that long commute worth your effort and visit the other UNESCO World Heritage Site in that area, Ryoanji Temple. It's just under a 20 minute walk, and is well worth your time.
Ryoanji is renowned for having the most famous rock garden in Japan, which is shrouded in mystery and leaves much to the imagination. While we favor a couple other gardens like this in Kyoto, Ryoanji's is the only one you'll conveniently be able to experience on this itinerary. Be sure not to miss Ryoanji Temple's grounds around the large pond, as the design and landscaping is nothing short of stunning. Click here to read and see more in our full post about Ryoanji Temple. 
Ninnaji Temple (Optional) – The next stop is Ninnaji, which is an easy walk from Ryoanji. Ninnaji Temple's main grounds are lovely–and free–featuring an impressive five-story pagoda. However, you shouldn't miss the paid Goten building, which is equal parts villa, garden, and quasi-imperial palace.
After Ninnaji Temple, you will once again take the buses (plural) to Ginkakuji, more commonly known as the Silver Pavilion. While there are a few possible routes–and Google Maps will advise you of the most efficient options–the least crowded choices will typically be bus 59 to bus 17. Click here to read and see more in our full post about Ninnaji Temple. 
Ginkakuji Temple (Silver Pavilion) – The northern-most stop on our 1-Day Eastern Kyoto Itinerary, the Silver Pavilion is a gem–even if it's not really covered with a precious metal. Silver Pavilion features numerous temple buildings, a meticulously-manicured dry sand garden, and cone meant to evoke the image of Mount Fuji.
The experience is spread across a route that takes guests through forested grounds. Unless you skip the first 3 stops, you'll arrive here during the heart of midday crowds, but it's a great experience either way. Click here to read and see more in our full post about the Silver Pavilion. 
Path of Philosophers – This stone walkway winds along a canal that connects Ginkakuji to Nanzenji Temple with various restaurants, shops, and intimate temples in between. It's not a point of interest, per se, but Path of Philosophers is a quintessential Kyoto experience.
It engages all of your senses and, if it's not too busy, allows you to slow down and absorb a slice of life in Kyoto. Any time of year this path is serene and contemplative, but the ambiance is arguably best in the summer or fall even the leaves are full and crowds are lower. In terms of natural beauty, nothing beats cherry blossom season–but that draws crowds. Click here to read and see more in our full post about the Philosopher's Path. 
Honenin Temple – A nice diversion about halfway through the Path of Philosophers that packs a powerful punch in a relatively small space. Honenin Temple is idyllic; a spiritual respite that isn't really even off the beaten path.
Resist the temptation to skip Honenin Temple, which is far from a headliner. In this itinerary, this is the only temple that isn't a headliner tourist attraction. The vibe here is different, and it's absolutely worth experiencing that. Plus, it's free and is a diversion that requires a minimal time expenditure. Click here to read and see more in our full post about Honen-in Temple.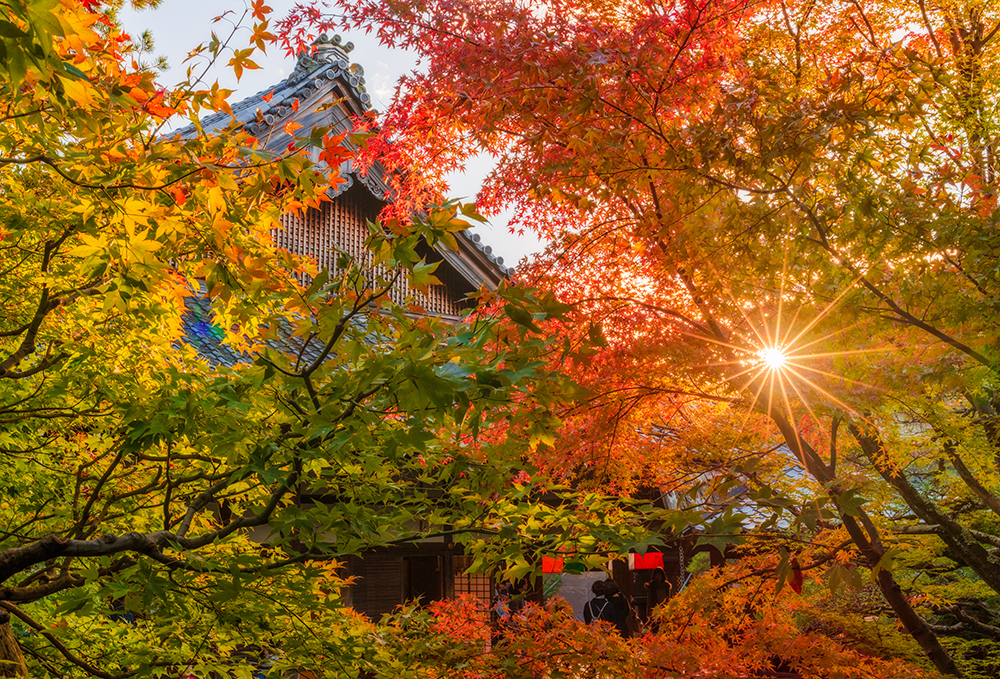 Eikando Temple (Optional) – Upon returning to Philosopher's Path and continuing south, you'll reach the end of the route, which finishes a stone's throw from Eikando Temple. During the fall, Eikando is a must-visit, but we're big fans of it year-round.
The temple has a variety of interesting and unique features, and you can follow a route up to its pagoda (visible above the tree-line even from the street), which offers a great panoramic views of Kyoto. Inside the temple, you'll find lots of great fusuma art and more. Click here to read and see more in our full post about Eikando Temple. 
Nanzenji Temple – Nanzenji Temple is a short walk from Eikando, and is one of Kyoto's headliner temples for good reason. In its free public areas, Nanzenji features much to see: a Sanmon gate, main hall, shrines, rock gardens, tea rooms, pond gardens, fusuma, and an aqueduct.
That aqueduct is the unequivocal highlight, and we'd recommend walking around and under it, tracing it up hillside to reveal a treasure trove of other details at Nanzenji Temple. Paying to go inside the Hojo is also worthwhile, but not necessary if you're short on time (especially if you already did Eikando). Click here to read and see more in our full post about Nanzenji Temple. 
Chionin Temple (Optional) – The next essential stop on the itinerary is Kiyomizudera Temple, which is about a 35-minute walk, so plan accordingly. While the length of the walk may be off-putting, more than half of it is through Maruyama Park and the beautiful Higashiyama District.
As you arrive to Maruyama Park, you'll see the giant Sanmon Gate of the free Chionin Temple from the street. This is another large temple complex sprawling across a hillside. Getting to the main grounds requires walking up a lot of steps, but it's worth it for a quick peek inside. Click here to read and see more in our full post about Chionin Temple. 
Kodaiji Temple (Optional) – Continuing through Maruyama Park, Kodaiji is the the last temple you'll see before exiting into the Higashiyama District. This is a great stop for architecture buffs, or those who appreciate quirky design.
Kodaiji has a beautiful main hall, rock garden representing the ocean, a tsukiyama style garden, and a small bamboo forest through which you can walk. However, we think the unheralded highlights are the smaller, outlying buildings that each present unique, forward-thinking styles. Click here to read and see more in our full post about Kodaiji Temple. 
Kiyomizudera Temple – This UNESCO World Heritage Site is the second-most important stop on this itinerary, and while Kiyomizudera Temple is a place pretty much every Kyoto tourist visits, it's wonderful and not even remotely overrated. The really good news is that you should arrive here just before the temple closes, allowing you to linger and outlast the dwindling crowds.
Kiyomizudera is one of Japan's most famous temples, and features some of Kyoto's most iconic structures: the dramatic wooden stage of the large main hall, hillside pagoda, shrines, "pure water" waterfall, and stunning views. Kiyomizudera takes on an ethereal glow when kissed by the setting sun, which is why we recommend sticking around here as long as they'll let you. Click here to read and see more in our full post about Kiyomizudera Temple. 
Explore "Old Kyoto" Higashiyama District – The great thing about lingering at Kiyomizudera is that you'll also outlas the crowds that make the walkways through the narrow streets of the Higashiyama District nearly impassable earlier in the day. After sunset, shops on Kiyomizu-zaka begin to close, and these intimate streets come alive…with a sense of tranquility.
With the Higashiyama District's streets largely devoid of people, each little detail of these historic buildings stands out. You gain a greater appreciation for the simple beauty of this quintessentially "Old Kyoto" area. Click here to read and see more in our full post about Higashiyama District. 
Continue Exploring "Old Kyoto" in Gion… – Walking down Matsubara Dori from Kiyomizudera will lead you directly into south Gion, which is most well-known as the place to stalk see geisha and maiko. Walk towards the grounds of Kenninji (a lovely temple that, unfortunately, will be closed by the time you get here) and head north towards Yasaka Shrine, which is open 24/7.
Gion is a great place to grab dinner, but you might not want to do a full sit-down meal if you're starting to get tired (the next stop will take over an hour). Stroll the tree-lined pedestrian lane of Shirakawa-dori, the high-rent shopping district on Shijo-dori, and the large Shijo-Ohashi Bridge that spans the Kamo River. Once finished, take the Keihan Main Line from Gion-Shijo Station to Fushimi-Inari Station. Click here to read and see more in our full post about Gion.
Fushimi Inari Shrine – Our favorite place in all of Japan, Fushimi Inari is an absolute treasure. We love it so much that we rented an apartment 5 minutes away and visited almost every single day for a month to really get to know this sprawling shrine and its many secrets. One thing that you'd think were a secret if judging by the (lack of) crowds is that Fushimi Inari is open 24/7.
If you go about an hour after sunset, you'll experience significantly lower crowds, with the opportunity for a tranquil stroll through the thousands of torii gates. As we've written previously, we love the powerful and serene experience of Fushimi Inari Shrine at night. If the late timing of this stop is a concern, move Fushimi Inari to the beginning of the itinerary rather than skipping it (in which case, you'll need to skip Golden Pavilion through Ninnaji). If you do only one thing in Kyoto, Fushimi Inari should be it. Click here to read and see more in our full post about Fushimi Inari Shrine. 
That's the end of one thoroughly exhausting, 14+ hour day in Kyoto. Even just reading our whole 1-Day "Best of" Kyoto, Japan Itinerary was probably exhausting. Now think about actually doing all of that. As you can probably imagine, it's necessary to cull a bit from the itinerary, and hopefully we've provided you the information necessary to condense this into a single-day Kyoto itinerary that is perfect for your visit to Japan!
If you're planning a trip to the Japan that includes Kyoto, we recommend starting by consulting our Ultimate Guide to Kyoto, Japan to plan all aspects of our vacation. You should also check out our other posts about Japan for ideas on other places to visit!
Your Thoughts
If you've been to Kyoto, do you have any feedback on this 1-day itinerary? Do you think a single day is sufficient to experience Kyoto? Any stops you view as skippable, or can't miss locations we overlooked? Any thoughts or tips of your own to add? If you're a first-timer to Japan, do you need further clarification about any of this? We know it's a lot to digest, so if you have additional questions, we'll do our best to answer! Hearing your feedback about your experiences is both interesting to us and helpful to other readers, so please share your thoughts or questions below in the comments!
https://www.travelcaffeine.com/wp-content/uploads/2018/12/eikando-temple-skyline-sunset-sunburst-bricker-kyoto-japan.jpg
644
1000
Tom Bricker
https://www.travelcaffeine.com/wp-content/uploads/2021/02/travel-caffeine-new-logo-2.jpg
Tom Bricker
2018-12-09 16:54:25
2018-12-09 17:48:03
1-Day "Best of" Kyoto, Japan Itinerary