During spring sakura season, Hirano Shrine is one of the top spots in Kyoto cherry blossoms. Its nighttime illuminations and parties are among the best events in all of Japan. In this post, we'll offer hanami at Hirano tips and our thoughts on the Oukasai (Cherry Blossom Festival).
As we shared in updates to our 2020 Kyoto Cherry Blossom Guide and Ultimate 2020 Kyoto, Japan Planning Guide, we planned on spending about a month in the city this year during sakura season. Those were updated only about a month ago, but so much has changed since then (as you're probably aware if you have an internet connection or television).
Of course, the best laid plans of mice and men often go awry. Since the realization that we wouldn't be returning to Kyoto…or even leaving our house for several weeks (months?)…it's been tough to post here. On an optimistic note, I think I'm starting to get over that. Looking at and editing photos from previous cherry blossom trips wasn't depressing–the stroll down memory lane actually brightened my day today. Maybe you'll likewise enjoy these scenes and stories from sakura season in Kyoto, Japan…
Hirano Shrine's cherry blossom procession, or Ōka-sai Matsuri, is Kyoto's longest running event. It has occurred at the shrine regularly since 985, for over one thousand years. (We don't know whether it'll happen this year or be cancelled–we sure hope the tradition continues, even if without spectators.)
If you visit on April 10, you can see this beginning at 10 am. It features a procession of an omikoshi shrine, women in historical kimonos, priests, and mounted warriors on horseback. The procession takes place at the mausoleum of Emperor Kazan, leaving the shrine precincts and continuing around the neighborhood before returning to the shrine. It's very solemn and traditional.
If you visit Hirano Shrine literally any other evening of sakura season, you'll experience…pretty much the polar opposite of that. It's more like Japan's spring take on Oktoberfest. You'll find vendors selling beer and fried foods, and packed tables of people singing and embracing a general sense of merriment. It's a hoot! 
Admittedly, our partying days are behind us, but it's nevertheless fun to observe in the festivities, and the general sense of camaraderie at Hirano Shrine is contagious.
Moreover, it's just fun to observe and see the odd juxtaposition. Hirano Shrine is religious site and Important Cultural Property…that hosts a booze-fueled frat party.
It's a bit jarring to see for the first time, but not particularly unique in Japan. (See our Himeji Castle Cherry Blossom & Sakura Season Tips.)
On the history front, Hirano Shrine has enjoyed a long relationship with Japan's Imperial Household and royal family. This dates back to the year 794 when the capital was transferred to Heian-kyo (the ancient name for Kyoto) from Nagaoka-kyo.
Back in the 10th century, Hirano Shrine was popular among Japanese nobility. It was visited by Emperor Kazan, who ordered a festival at the shrine to wish for the imperial bloodline's prosperity.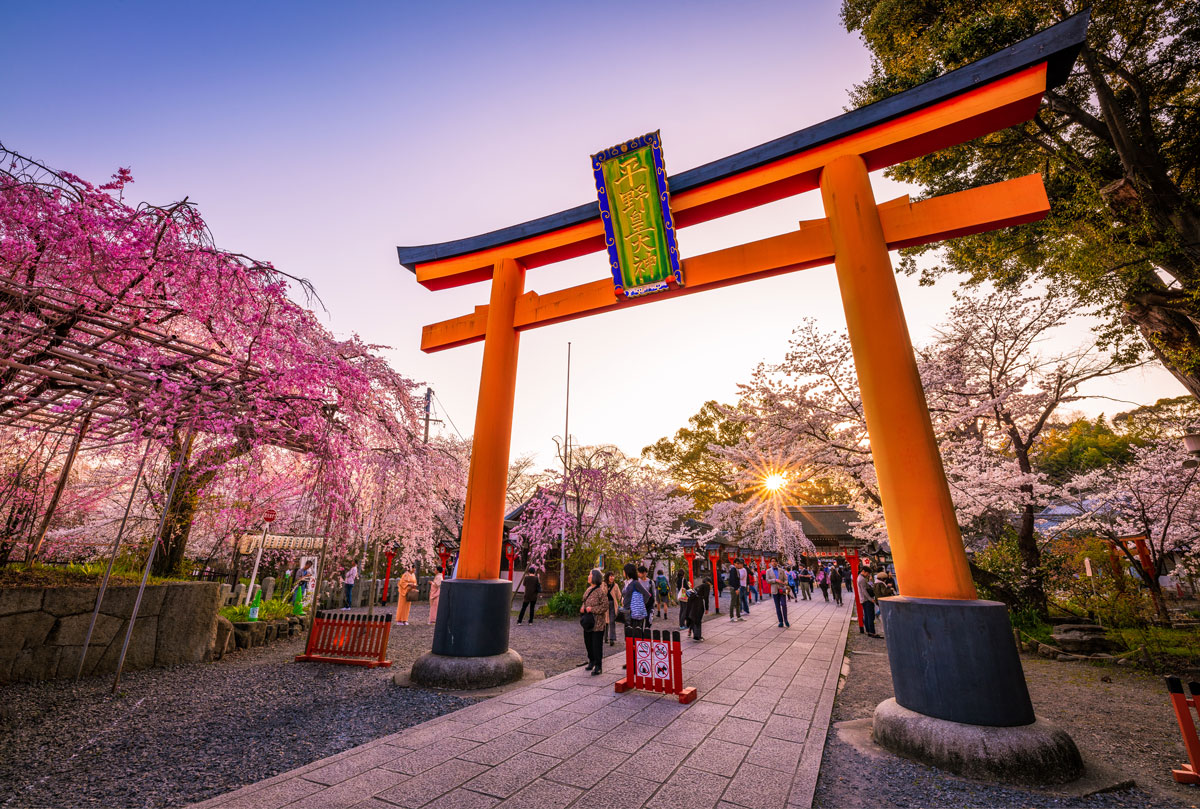 On the booze-fueled frat party front, Hirano Shrine is within a 5-minute walk of Ritsumeikan University, and is a popular gathering spot for local college students looking to drink and enjoy the scenery.
While you may not want to partake in a party of college students, we think this is an asset rather than a drawback. Hirano Shrine is located in Northeast Kyoto, and isn't convenient to any major tourist spots.
In our 2-Day Kyoto Cherry Blossom Itinerary, we actually have a pretty savvy approach to seeing it, but the vast majority of visitors aren't going to do that. As such, Hirano Shrine draws mostly a local audience and one that skews younger.
After you spend a couple of days in areas overrun with other foreign tourists (for better or worse, that's what most of Kyoto's best sakura spots involve), this will be a welcome reprieve.
In looking at these photos, you might think that Hirano Shrine is truly a hidden gem during sakura season, totally devoid of crowds. It's not.
Most of the night photos here were shot with a tripod at opportunistic times when fewer people were around. Some are 30 second exposures that blur out the moving crowds. (A lot of effort went into capturing the "selfie" of us above!)
The daytime photos are a different story, and we have found noticeably smaller crowds at Hirano Shrine earlier in the day. This is likely because students are still in class, and they don't showing up until party time.
Even then, you're still bound to encounter some people. The images are deceptive in that regard because I've spent hours upon hours photographing Hirano Shrine.
As noted above, Hirano Shrine is not a popular spot with tourists so there's not much foot traffic in that regard.
Ryoanji Temple is only a 15 minute walk from Hirano Shrine, but the majority of visitors to that are tour groups, and their buses (thankfully) have nowhere to park over by Hirano Shrine.
Other interesting points of interest near Hirano Shrine are Kitano Tenmangu Shrine and the Golden Pavilion. The former is a 5 minute walk and the latter is 10 minutes. We'd recommend visiting both prior to arriving at Hirano Shrine.
Unlike those counterparts, Hirano Shrine has no closing time. It also doesn't charge admission…but you'll likely spend money on charms, souvenirs, delicious street food, and beer.
If you're visiting Kyoto in any other season and are considering a visit to Hirano Shrine…don't.
While it ranks as #36 on our Top 100 Shrines & Temples in Kyoto List, that's solely because of sakura season. There's literally no reason to visit any other time of year. Sure, it has some rich history, but the same could be said about 500+ other temples and shrines in the city.
Overall, visiting Hirano Shrine for the nighttime cherry blossom viewing festival and hanami party is an incredibly memorable experience. The boozing and revelry at an important cultural and religious site might seem incongruous at first, but it really works. We'd go a step further and assert that it's an essential experience for sakura season in Kyoto.
You'll experience most other popular spots in Kyoto as a tourist among tourists. Hirano Shrine at night during sakura season is a rare chance to partake in something truly authentic. Even if it doesn't comport with your preconceived notions about "traditional" Japan, this is a modern day custom–and the hamani being held at a 1,000+ year old shrine really bridges the gap between past and present!
If you're planning a trip to Japan that includes Kyoto, we recommend that you start by consulting our Ultimate Guide to Kyoto, Japan to plan all aspects of our vacation. You should also check out our other posts about Japan for ideas on other places to visit! 
Your Thoughts
Have you visited Hirano Shrine in Japan? Did you experience it with cherry blossoms in full bloom, or during some other season? What did you think of the experience? Would you recommend it to a first-timer visiting Japan? Any thoughts or tips of your own to add? Any questions about what we've covered here? Does visiting this spot in Kyoto interest you? Hearing about your experiences—even when you disagree with us—is both interesting and helpful to other readers, so please share your thoughts below in the comments!
https://www.travelcaffeine.com/wp-content/uploads/2020/03/sarah-tom-bricker-hirano-shrine-cherry-blossom-hanami-sakura-season-kyoto-japan.jpg
800
1200
Tom Bricker
https://www.travelcaffeine.com/wp-content/uploads/2021/02/travel-caffeine-new-logo-2.jpg
Tom Bricker
2020-03-30 17:29:10
2020-03-30 17:30:18
Hirano Shrine: Kyoto's Sakura Party Scene