Our step-by-step Kyoto, Japan itineraries offer single and multi-day plans for Arashiyama, Higashiyama, and cover everything from the best-of temples & shrines like Golden Pavilion and Fushimi Inari to hidden gems you've never heard of. These Kyoto touring plans provide tips for what to do, where to eat, districts to see, and the most efficient order of experiencing the highlights of each area.
Several of these itineraries are essentially walking tours of Kyoto, with limited reliance on trains or buses. We've tried to minimize use of public transportation by mapping out each step in the most efficient route necessary, but Kyoto is a sprawling city, so some use of transportation is necessary. However, none of these itineraries require use of an automobile. Most of you reading this won't have access to a car, and taxis in Japan can be prohibitively expensive.
Moreover, a huge part of visiting Japan is experiencing Japan. That might sound like a simple tautology, but it's an easy and common mistake of first-timers to Japan. Walking around, meandering, and even getting lost will allow you to explore the real, lived-in places; that's much better than quickly bouncing from shrine to museum to other touristy points of interest. To that end, our Kyoto itineraries balance 'checklist style' efficiency with 'slowing down to smell the roses.'
In practice, these seemingly-contradictory concepts can easily coexist. Each stop is arranged in such a way so that you'll avoid crowds by visiting popular temples before the tour groups arrive (or after they leave), and follow a route that minimizes commute times, backtracking, and takes you through the most interesting neighborhoods. This necessary degree of efficiency opens the door for a laid back approach and focus on hidden gems once you've beat the crowds.
Unlike other sites and Japan guidebooks, these itineraries are the result of a tremendous amount of first-hand research. By that, we mean that our itineraries are not the result of just visiting Kyoto once and throwing our one-time, haphazard daily schedule into itinerary form, as is the case with a lot of itineraries. (Worse yet, some are crowd-sourced by remote editors who mostly just see what has the best reviews on Google.)
Rather, we have spent months walking around Kyoto trying to find under-the-radar temples, the best places to eat, and the most efficient routes between those places. The number of days we've walked over 10 miles in Kyoto over the course of the last year is better measured in months; we've tested walking against taking the trains and done a number of other things that border on obsessive. (Just ask Sarah–she might use a word stronger than "obsessive" to describe my level of devotion to getting these itineraries right.)
Even with all of that said, these Kyoto, Japan itineraries are still a work in progress. As we do new things and revisit old favorites, I think of ways to tweak things, and reconsider our distribution of temples versus other points of interest. We've posted several new Kyoto itineraries recently, with more on the way. I also plan to edit some of our early ones to strike a better balance.
To that end, we want to underscore the notion that "temple fatigue" is a very real thing, and a phenomenon that's likely to set in over the course of one really jam-packed day or even several more laid back days. This is because Kyoto's iconic draws are all temples and shrines, and there's a temptation to do as many of them as possible.
Resist that temptation. Our itineraries include a lot of temples and shrines, but many are marked as 'optional.' We'd strongly encourage you to heed that notation, and liberally remove stops from all of these Kyoto touring plans. We won't be offended. Even though they are incredibly detailed, these itineraries are still intended to be jumping off points.
Kyoto has so much to offer beyond just temples and shrines; so much of what's special about the city is its spirit. These are the kind of 'little things' that vary from person to person and quiet moments that are impossible to enumerate on an itinerary. As noted above, making room for random exploration and surprise discoveries is not just important–it's essential.
With all of that said, our Kyoto itineraries are a huge source of pride. I don't think you'll find better Kyoto itineraries (at least in English) anywhere. We've put hundreds of hours into building them (again, just ask Sarah about that) and hope they will help you have a great experience in Kyoto, and see why it's our favorite city in the world!
Single Day Itineraries
1-Day "Best of" Kyoto Itinerary – It's impossible to see the best of what Kyoto has to offer in a single day, but this itinerary takes a 'challenge accepted' to that proclamation. This itinerary manages to take you to many of the best temples & shrines in the city, and also includes an evening in Gion. It's a great taste of Kyoto that will leave you hungry for more.
1-Day Western Kyoto Itinerary – This itinerary is mostly in the Arashiyama Mountains that flank the Western side of Kyoto, as well as the Sagano district. This jam-packed day along includes visiting Japanese macaque monkeys in their mountainous habitat, entering gorgeous temples, traditional gardens, and more–everything from UNESCO World Heritage Sites to under-the-radar gems.
1-Day Central Kyoto Itinerary – Our most balanced itinerary in terms of experiencing Kyoto's diverse points of interest. Some temples and shrines, but the emphasis of this touring plan is museums, along with parks and even Kyoto's lone castle.
1-Day Eastern Kyoto Itinerary – With a path that follows the foothills of Kyoto's Higashiyama Mountains, this is arguably the best single day you will have in the city. It covers a ton of ground, going as far north as Silver Pavilion and continuing south to Fushimi Inari Shrine–and around a dozen iconic spots in between.
1-Day "Cool Kyoto" (Northern Kyoto) Itinerary – This is a really neat–dare we say cool–Kyoto touring plan that features a mountain temple, imperial villa, hiking, the best onsen in Kyoto, a scenic railway journey, and cooler mountain weather (dual meanings!). This is a great fourth day in Kyoto, but we love it so much that we'd recommend it even for those with fewer days in the city.
1-Day Southwestern Kyoto Itinerary – An off-the-beaten path itinerary for the Southwestern outskirts of Kyoto that includes some exceptional hidden gems and highlights. Most notably, there are stops at Yoshiminedera Temple, Katsura Imperial Villa, and the "Moss Temple." A great fifth day in the city.
1-Day Kyoto Fall Colors Itinerary – If you're visiting during autumn foliage season, we recommend using this itinerary in lieu of our 1-day Eastern Kyoto Itinerary above. For multiple days, refer to our other fall touring plans below.
1-Day Kyoto Cherry Blossom Itinerary – Same idea, except for spring sakura season. This is the very first itinerary we made for Kyoto and, to be honest, it's in need of a refresh. Before the 2019 cherry blossom season, we'll likely put together a 2-day (and maybe 3-day) sakura itinerary–and update this in the process.
Multi-Day Kyoto Itineraries
2-Day Kyoto Highlights Itinerary – This is the first multi-day Kyoto touring plan we created, upon learning that most readers only spend two days to the city. It's an aggressive 'best of' itinerary that enables you to see most of Kyoto's famous temples and shrines. As we note in this itinerary, we recommend at least 3 days in Kyoto, and those with more than 2 days should follow our itineraries below, rather than this one.
3-Day Kyoto Itinerary – This builds upon our highlights itinerary above, spreading out some of the iconic temples and shrines to give them each more room to breathe, while also adding more variety and new locations into the mix. If you've three days in Kyoto–the perfect amount of time for many travelers–this is the perfect touring plan for you!
4-Day Kyoto Itinerary – A more leisurely itinerary that offers the best of the Eastern, Western, and Central Kyoto Itineraries, with a number of modifications along the way. This Kyoto touring plan caps that all off with a final day north of the city's crowds for a mountain temple hike, followed by some rest & relaxation at an onsen.
5-Day Kyoto Itinerary – The perfect amount of time for a first visit to Kyoto. This features everything: temples, shrines, scenic strolls, exhilarating hikes, museums, dining, and so much more. While it skews towards the temples and shrines, there's more than enough variety here to fully experience the heart and soul of Kyoto.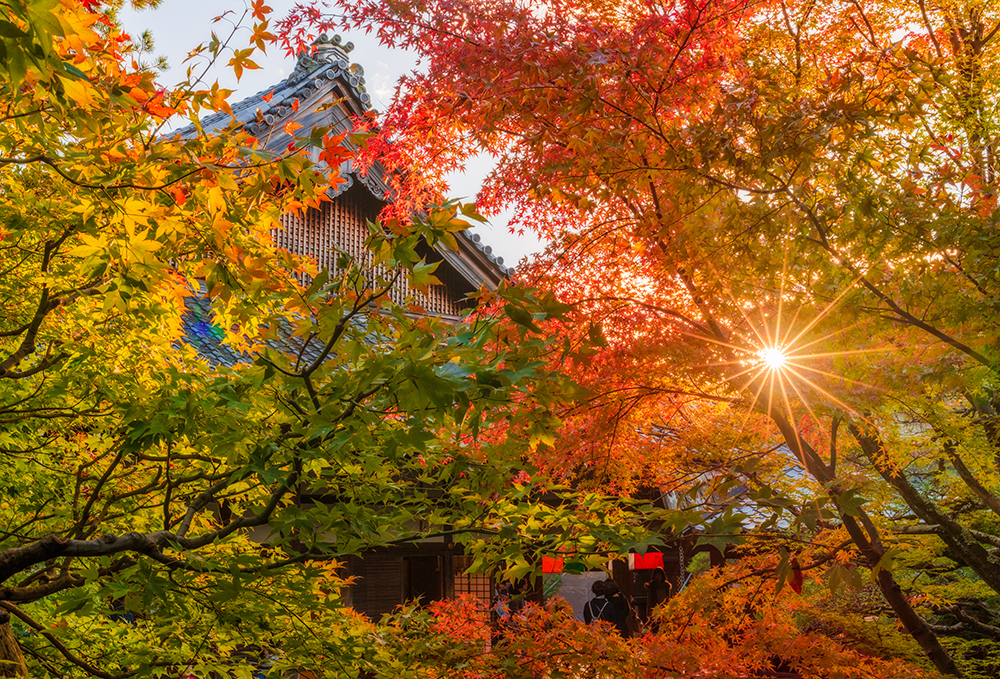 2-Day Kyoto Fall Colors Itinerary – This step-by-step walking tour of Kyoto takes you through the best fall colors temples & shrines in Arashiyama and Higashiyama in an efficient manner to avoid the crowds as much as possible, and maximize your time in Japan's most beautiful city for fall colors.
3-Day Kyoto Fall Colors Itinerary – Very similar to the 2-day itinerary, but with a slower pace and a bit more diversity (for instance, this itinerary includes the Kyoto Railway Museum…which obviously offers zilch in the way of foliage). More importantly, this itinerary gives you a chance to experience all of the major nighttime illuminations for fall colors season.
You'll notice these itineraries max out at 5 days, which will leave you with 'open' days if you're spending a week or more in Kyoto. While you could spend months in the city and not see it all (quite literally–we've tried!), we wouldn't recommend most casual tourists do more than 5 days in Kyoto.
If you have additional time, pair our 5-Day Kyoto Itinerary (or multiple shorter itineraries) with our 1-Day Nara Itinerary, our 1-Day Kobe Itinerary, or our 1-Day Osaka Itinerary. We absolutely love Nara and Kobe (Osaka isn't too shabby, either), and highly recommend both if you have a week or so in Japan's Kansai region!
If you're planning a trip to Japan that includes Kyoto, we recommend that you start by consulting our Ultimate Guide to Kyoto, Japan to plan all aspects of our vacation. You should also check out our other posts about Japan for ideas on other places to visit! 
Your Thoughts
Have you visited Kyoto? Did you use any of these itineraries? What would you recommend to a first-timer visiting Japan? Any thoughts or tips of your own to add? If you're planning your trip to Kyoto, what do you think about these itineraries? Any questions? Hearing your feedback about your experiences is both interesting to us and helpful to other readers, so please share your thoughts or questions below in the comments!
https://www.travelcaffeine.com/wp-content/uploads/2019/01/enkoji-temple-kyoto-japan-sunset-sand-sunburst-bricker.jpg
667
1000
Tom Bricker
https://www.travelcaffeine.com/wp-content/uploads/2021/02/travel-caffeine-new-logo-2.jpg
Tom Bricker
2019-01-02 14:17:40
2019-01-02 14:17:40
1-Day to 1-Week Kyoto, Japan Itineraries