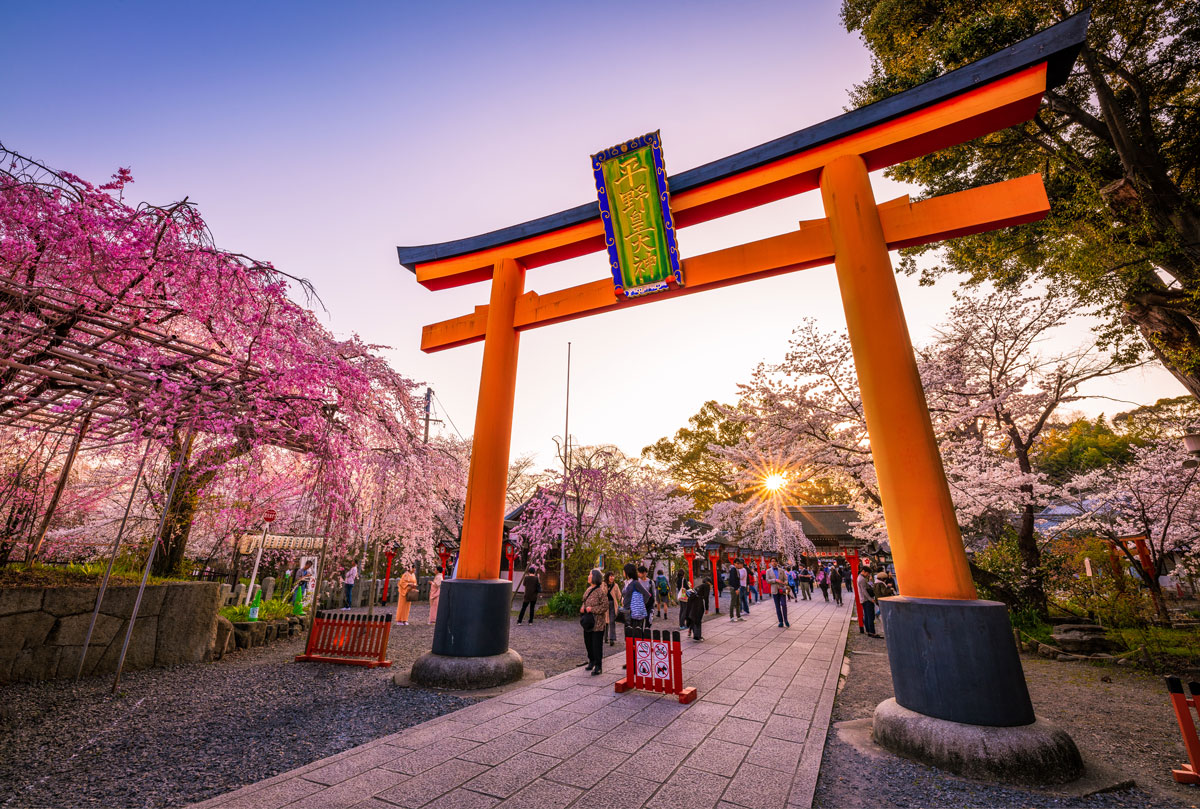 When to visit Kyoto to avoid crowds, experience seasonal beauty, and enjoy the top festivals is important for first-timers to Japan. There will be no single worst or best time–it depends on your priorities. (Updated February 15, 2023.)
In this guide, we'll narrow down your options to help you assess when is the best time for you to visit Kyoto, Japan in 2023. This is a crucial first step, as the version of Kyoto you'll experience depends very much upon when you go. Kyoto is known as a city of four seasons, with locals embracing the seasonality and creating schedules of events around the seasons.
The starkness of the seasons obviously is driven by weather, which can range from extremely hot and humid in the summer to frigid and snowy in the winter. Crowds, seasonal beauty, and events also come into play. We think that every season in Kyoto is special for its own unique reasons, but for a first-time visit, every time of year is not of equal quality. With that said, let's start with an update…
2023 Kyoto Crowds Update
In our latest update to this guide to the best times to visit Kyoto, we're taking into account quite a bit of news and changes. It also comes after our own holiday season trip to Japan–the first time we've been able to visit in 3 years due to the border closure. During that visit, we spent several weeks in Kyoto, and learned a lot in the process.
First, there is a huge amount of pent-up demand among domestic visitors in Japan. This actually isn't something we learned–we feared this and previously warned of sky-high crowds in 2023. Japanese people who have behaved cautiously getting back to normal plus international tourists who been shut out of Japan for the last two years making up for lost time could result in huge crowds.
This was hardly a bold prediction, as this exact scenario has played out at popular tourist destinations around the globe. The only difference is the timeline being delayed due to Japan's slower reopening. Staffing shortages are an exacerbating factor, making crowds feel even worse than they actually are in a number of places as Japan's tourism and leisure sectors struggle to keep up with demand.
According to the Japan National Tourism Organization, approximately 1.5 million visitors entered Japan in January 2023, which is up 130,000 as compared to December. The number of inbound tourists has increased substantially each month since Japan reopened last fall. Despite that, this is still only about half the number of tourists who visited Japan in January 2019.
Looking forward, there's every reason to believe this trend of international tourist arrival growth will continue throughout 2023. It's mostly diehard Japanophiles who have made trips thus far, as most people need more lead-time than just a few months before traveling internationally.
Between sakura season and summer traveling, March through July are historically the biggest months of the year for international visitors entering Japan. In addition to that, domestic tourism among Japanese only continues to get stronger, as travel trepidations persisted longer there than elsewhere.
Second, there's the giant panda in the room: China. Kyoto is an incredibly popular destination for Chinese tour groups, and we previously expected that few would be able to visit in the first half of 2023 due to Beijing's strict zero-COVID policy. We also said that even after zero-COVID was abandoned, it would be a gradual policy change, and there would be lag between the booking of trips and traveling.
That was very, very wrong. No one predicted zero-COVID to unravel as it has, and it's really difficult to say what happens next. Even with Japan creating some testing obstacles, travel agents in China reporting sky-high bookings already reflect this. However, Japan is not one of the top destinations thus far. During the Lunar New Year period, Chinese visitors to Japan totaled only 31,200–that's down 95.9% from the same month in 2019, which is likely due to Japan's tough border controls for people traveling from China.
Additionally, China recently resumed overseas group tours for Chinese citizens after a roughly 3-year hiatus due to the coronavirus pandemic, but the tours will be limited to 20 countries. Once a top destination for Chinese travelers, Japan is excluded from the list. This is almost certainly a form of retaliation for Japan's tougher border measures.
All of this is expected to change by March 2023. Japan's government is currently considering easing border controls on travelers arriving from China by the end of this month, as the rate of arrivals testing positive for the virus has plummeted recently. Pre-arrival testing would likely continue, but all other measures would be dropped. Additionally, there are plans to resume direct flights connecting Japan with mainland China to four major airports: Narita, Haneda, Kansai, and Chubu.
Given all of that, our revised expectation is that there will be a major amount of pent-up demand among Chinese tourists, potentially starting as soon as the 2023 sakura season. This will result in larger-than-normal crowds across the board, especially in the second half of the year. Expect to see individual Chinese travelers and group tour buses return in a major way, exacerbating conditions that are already pretty crowded.
Finally, there's the open question of Japan's domestic travel subsidies. This is right up there with China's reopening as the biggest wildcard of all. Japan has already confirmed that these subsidies are returning in 2023–but no end date has been set.
We observed colossal crowds during the recent fall colors season in Japan, with scarcely few foreign tourists. There were definitely some, but there were far more domestic travelers than we recall during the exact same timeframe in 2019. This was consistent with our experience throughout Japan, but nowhere was it as pronounced as in Kyoto. It seems Japanese travelers were exploring their own country, taking the opportunity to do so before tour groups and international visitors overwhelmed the country.
Kyoto was packed with some of the worst 'feels like' crowds we've ever encountered at a number of temples and popular spots. Nighttime illuminations were next-level bonkers, with 30+ minute lines to enter and wall-to-wall congestion once inside some spots. The main driver behind this was the aforementioned domestic travel stimulus, which subsidized the cost of hotel stays and other expenses for domestic visitors.
Domestic travel to Kyoto will likely fall off a cliff once the travel subsidies end. It's possible there will be a decline before that, as the Japanese will see their window of opportunity closing with the return of tour groups and individual foreign travelers. Either way, it's unlikely this alone will be enough to offset the surge in visitors from China and beyond in 2023.
To that end, let's start by taking a month-by-month look at the objective realities of what you'll encounter in terms of seasonal offerings, crowds, and weather, followed by our subjective commentary about the best and worst times to visit Kyoto…
Monthly Guides to Kyoto
January

Seasonal Events: Hatsumode
Weather: 35-50° F with mostly sunny days and little precipitation.
Crowds: Low after New Year's week.
Notes: Snow is possible in Kyoto, and this usually happens a couple of times in the city-center, with accumulation being rare. If you are actively seeking snow, it's a regular occurrence in Kurama and other mountain areas of Kyoto that are ~60 minutes away by public transit.
February

Seasonal Events: Setsubun Festivals; Plum blossom season
Weather: 35-50° F with mostly sunny days and little precipitation.
Crowds: Low.
Notes: Snow is also possible in February. The first few months of the year are quietest in terms of crowds, but without snow, the lack of foliage can make things feel dead and dreary.
March

Seasonal Events: Hanatoro; Plum blossom and early sakura seasons
Weather: 40-55° F with mostly sunny days and light precipitation.
Crowds: Low crowds early in the month becoming moderate towards the end of the month.
Notes: Cherry blossom usually season starts at the end of March, peaking in April. March can be a great time to go for a sneak-peek at this with far lower crowds than in April. However, blossoms are weather-dependent, and you could get burned with a later bloom.
April

Seasonal Event: Cherry blossom/sakura season
Weather: 50-65° F with moderate sunny days and light precipitation
Crowds: Peak crowds in early April decreasing as the month goes on, with heavy crowds again around Golden Week.
Notes: The first week of April is Japan's busiest tourist season as that's viewed as the heart of sakura season in a normal year. If you don't like crowds, don't visit the first week of April.
May

Seasonal Event: Kamogawa Odori
Weather: 60-75° F with moderate sunny days and light precipitation.
Crowds: Low outside of Golden Week.
Notes: Post-sakura season, Kyoto's trees are vibrant and full of life. Weather is mild and crowds are low.
June

Special Event: Ajisai Matsuri; Kamo River Yuka Dining
Weather: 65-75° F with some sunny days and moderate precipitation.
Crowds: Low.
Notes: The best summer option both in terms of crowds and weather.
July

Seasonal Event: Gion Matsuri; Kamo River Yuka Dining
Weather: 75-85° F with some sunny days and high humidity. Expect heavy rain as typhoon season begins.
Crowds: Moderate most of the month, heavy during Gion Matsuri.
Notes: Potentially miserable weather coupled with summer tourist crowds make July a month to avoid unless Gion Matsuri is a bucket list must-do.
August

Seasonal Event: Fire Festival; Kamo River Yuka Dining
Weather: 75-90° F with moderate sunny days and high humidity. Highest levels of rain and peak typhoon season.
Crowds: Moderate.
Notes: Don't go in August.
September

Special Event: Kamo River Yuka Dining
Weather: 70-80° F with moderate sunny days and some rain, as typhoon season continues.
Crowds: Low/Moderate.
Notes: While hot and rainy weather is still possible in September, the month generally marks a transition towards fall, and is much more pleasant than June-August.
October

Special Event: Kurama Fire Festival; early fall foliage
Weather: 60-70° F with moderate sunny days and light precipitation.
Crowds: Moderate.
Notes: October is a great "compromise" season–moderate crowds, color, and weather.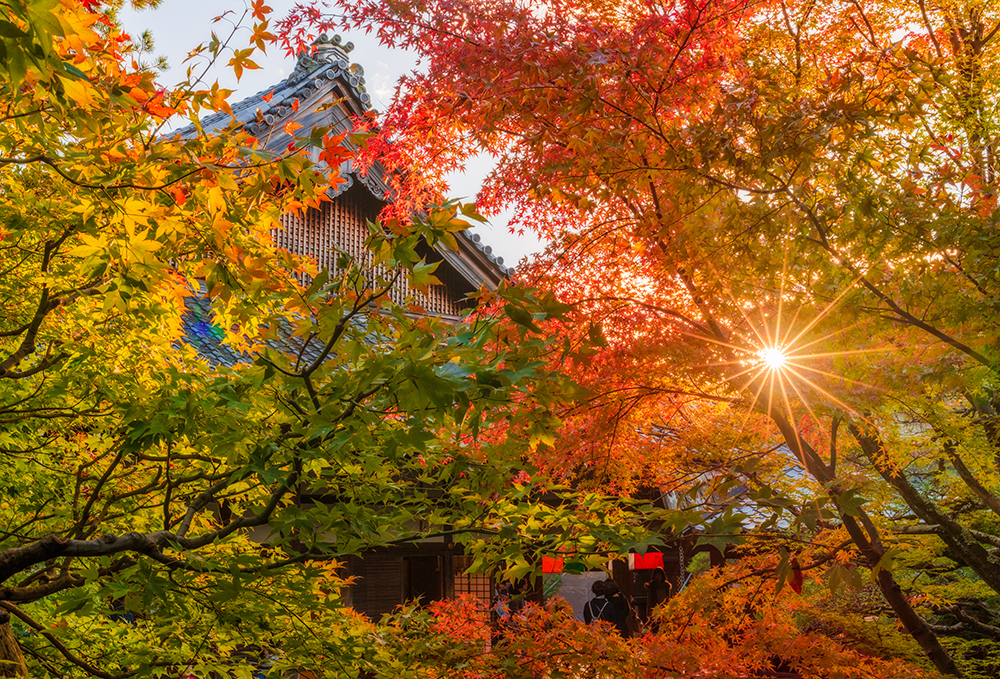 November

Special Event: Gion Odari; fall colors
Weather: 50-65° F with mostly sunny days and light precipitation.
Crowds: Heavy.
Notes: Early November is pretty and still moderate crowds as part of Japan's shoulder season. Crowds intensify mid-month as fall foliage tends to be at its most beautiful.
December

Special Event: Fall foliage; Hanatoro; Christmas
Weather: 40-55° F with mostly sunny days and light precipitation.
Crowds: Heavy at the beginning of the month, gradually decreasing to low at the end of the month.
Notes: December is a roller coaster of crowds and weather. We think mid to late December is underrated; while it's colder and can look bleak, Christmas-time in Kyoto is fun and jovial.
Only major special events are listed above, and this is just a small sampling of the seasonal offerings you can experience in Kyoto. There is at least one event worthy of tourist consideration literally every single day of the year in Kyoto, from special temple openings to flea markets to festivals and more.
You'll see fliers plastered around Kyoto for many of these events, but those will be in Japanese, so they're not always helpful. If you're interested in attending special events beyond what we've listed, visit one of Kyoto's Tourist Information Centers upon arrival and inquire about the calendar during your stay.
Now, for some commentary and specific recommendations, with our subjective favorite months and weeks to visit Kyoto, Japan…
Best & Worst Times to Visit Kyoto in 2023
The most popular times to visit Kyoto are for cherry blossom season in early April and fall colors season in mid to late November. From a beauty perspective, these are the "best" times of year in Kyoto. It's world-renowned during both seasons, and these are the peak travel seasons for good reason.
Cherry blossom and fall colors seasons are our favorite times of the year in Kyoto. As experienced visitors, we're familiar with the ins and outs of navigating transit during peak periods, know where to go to avoid crowds, and are okay with skipping the most iconic (and busiest) temples, as we've already visited countless times before.
In normal years, the crowds during these stunning seasons border on unbearable. Parking lots are full of tour buses, train stations are overflowing with people, and the most popular temples become loud and chaotic. Everything we write about tranquility, peacefulness, and contemplativeness is untrue during those times of the year.
Due to this, we are typically hesitant to recommend peak sakura and fall colors seasons to a Japan first-timer. For the past decade as tourism numbers have swelled, it has been difficult to experience the "true" Kyoto; even if the city is at its most resplendent, it may be tough to fall in love with it.
However, as you might've sensed by the fact that all of that is past tense, we are strongly recommending peak cherry blossom and fall colors seasons as the best times to visit Kyoto. It is going to take at least a year for tourism numbers to rebound, especially international travel. Consequently, the coming fall colors and sakura crowds will be a fraction of what they were previously.
The above month by month crowd trends for Kyoto will hold true in 2023, but relative to other months within the year–not past years. It's safe to expect both more pent-up demand among international and domestic travelers within Japan as people become fatigued from restrictions and are more ready to move on with life. Consequently, it's likely that all months in 2023 will be busier than they were back in 2019 (and certainly busier than the last three years!) It's all relative. 
With that said, if you want to err on the side of caution and avoid Kyoto crowds to the greatest extent possible, aim for a "best of both worlds" experience. For that, we'd recommend visiting just before or after these peaks. In the case of cherry blossom season, we favor going after the blossoms have peaked, following the second week of April. We prefer this over late March (both of which are moderate, crowd-wise) since the weather is nicer and the scenery is a bit more vibrant with the green of spring.
When it comes to fall foliage, it's better to go early than to go late for the exact same reason. Missing peak fall colors on the front end means a kaleidoscope of greens, yellows, and red foliage. Missing peak on the back end means some reds and some barren trees. The added upside is that you'll have better weather. The downside is slightly higher crowds in late October and early November as compared to mid-December.
The 'sweet spot' for moderate crowds and a decent amount of color is the second week of November. Keep in mind that if you fly too close to the sun, you're going to get burned–the longer you stick around in mid-November, the more likely you are to experience heavy crowds. If you do opt to wait until after fall foliage season ends in December, you'll be rewarded with some of the lowest crowds of the year.
Another thing to keep in mind when planning is that the peaks for both sakura and fall colors seasons do not have fixed dates. During an abnormally warm spring, we've experienced the actual peak of cherry blossom season in late March when no crowds were around. We've also been in mid-November during what should have been the heart of autumn foliage season only to find little change in color.
The point is that the peak of both of these seasons are always uncertain, but one thing that is very much predictable is the crowds. As such, we recommend gambling a bit on the natural component to avoid the 'sure thing' of crowds.
In terms of crowds, neither summer nor winter are particularly busy, save for holidays and various festivals (Gion Matsuri, in particular) that draw large numbers of domestic tourists. However, we generally avoid both of these seasons unless you have a specific reason to go during them for one simple reason: weather.
During winter months (December through early March) it can be frigid–cold enough to snow. While a fresh blanket of snow makes for beautiful scenery, you're more likely to just have freezing weather, and that's not exactly the most comfortable for touring. By late March, the weather is once again temperate, and it stays pleasant through late May.
At the other end of the spectrum, there's late-June through August, which is just as bad from a weather perspective both in terms of both precipitation and (more importantly) debilitating humidity. Japan's summers are becoming increasingly intense and miserable, to the point that we now strongly caution against visiting in July or August unless you have literally no other choices.
The upside to summer is the festivals, most notably the aforementioned Gion Matsuri, which occurs throughout the month of July, and is the most famous festival in Japan. This celebration of Yasaka Shrine culminates with a grand procession of floats on July 17, followed by a smaller second parade on July 24.
Fall mirrors spring, with weather becoming increasingly mild until it's typically downright pleasant at the end of September through mid-November. Obviously, unseasonably warm or cold temperatures are possible within these ranges, but Kyoto weather generally stays pleasant until late November, when it's more of a wild card. Same with December, when mild weather is still possible–as is snow.
An ancillary consideration when it comes to weather is where you'll be staying. If you plan on renting an Airbnb or staying in anything other than a hotel, you need to be aware that many homes and flats in Kyoto are older and rather spartan. We've stayed at units in Kyoto that did not have adequate heat or air conditioning. During both the heart of summer and winter, this can be miserable.
Ultimately, while we don't think each times of year are equal for first-timers to Japan, we do think Kyoto has something to offer no matter when you visit. Even prior to reading this you might've had your mind made up about one season or another. Hopefully, this guide has steered you away from the worse and towards better times to visit within each season. Once you've been during one season, you'll invariably want to return during another…until you've experienced all of Kyoto's seasonal beauty and offerings.
If you're planning a trip to Japan that includes Kyoto, we recommend that you start by consulting our Ultimate Guide to Kyoto, Japan to plan all aspects of our vacation. You should also check out our other posts about Japan for ideas on other places to visit! 
Your Thoughts
If you've been to Japan, during which seasons? What time of year is your favorite in Kyoto? Do you have a visit to Kyoto planned in 2023 or 2024? What would you recommend to a first-timer? If you've yet to visit, which seasons or months are most appealing to you? Need further help to narrow down your travel dates? Any other questions? Hearing feedback about your experiences is both interesting to us and helpful to other readers, so please share your thoughts below in the comments!
https://www.travelcaffeine.com/wp-content/uploads/2022/01/crowds-fall-colors-kiyomizudera-temple-kyoto-japan-1373.jpg
678
1000
Tom Bricker
https://www.travelcaffeine.com/wp-content/uploads/2021/02/travel-caffeine-new-logo-2.jpg
Tom Bricker
2023-02-15 12:17:00
2023-02-15 14:23:22
When to Visit Kyoto, Japan: Best & Worst Times (2023)